Drs. Brian and Kristina Shuffler have been serving the families of the greater Delaware valley for over 10 years. Licensed Chiropractic Physicians, they have a extensive experience in the care of the human body, the chiropractic wellness paradigm, nutrition, exercise science and family wellness.
Dr. Kristina Shuffler, a 1998 Life University graduate is also pursuing a Diplomate of the Academy Council of Chiropractic Pediatrics and is Webster Technique Certified. Dr. Brian Shuffler, a 2001 Texas Chiropractic College graduate, is a member of ICA Council on Wellness Science and has become a well respected lecturer on the this topic. He has made wellness presentations for numerous organizations and has twice been awarded by the Mayor of Philadelphia for his dedication to the people of Philadelphia and the surrounding communities.
Their purpose is to share their knowledge and to educate patients on wellness. Residing in West Chester, Pennsylvania, Drs. Brian and Kristina enjoy spending time outdoors with their three children; Alexandria, Olivia and Brady.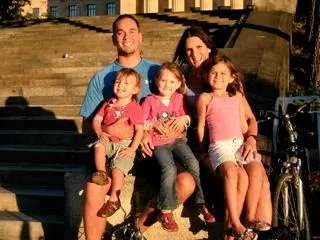 Curriculum Vitae
Brian M Shuffler, DC
Experience
2008 - Pres. Chiropractor/Owner - Integrative Health & Chiropractic Center, West Chester, PA
2007 - 2009 Chiropractor/Clinic Director - Center City Chiropractic & Rehabilitation, Philadelphia, PA
2005 - 2007 Chiropractor/Rehabilitation Director - Rehrig Chiropractic & Wellness Center, Media, PA
2003 - 2004 Chiropractor - Havertown Wellness Center, Havertown, PA
2002 - 2003 Chiropractor/Clinic Director- Karmich Wellness Centers, Philadelphia, PA
1999 - 2001 Instructor - Clear Creek Independent School District, League City, TX
1999 - 2000 Children's Educational Entertainer - Mad Science Inc., Houston, TX
Education
Doctor of Chiropractic - August 2001
Texas Chiropractic College, Pasadena, TX
Internship
NASA Bay Area Chiropractic Center, Houston, TX
University of Texas Medical Branch Hospital, Orthopedics, Spine Surgery Division, Galveston, TX
Mainland Medical Center Hospital, Orthopedics, Spine Surgery Division, Texas City, TX
Moody Health Center, Pasadena, TX
Bachelor of Science -
Texas Chiropractic College, Pasadena, TX
Additional Education
Diplomate Program; American Board of Chiropractic Nutrition - August 2000
Texas Chiropractic College, Pasadena, TX
Acupuncture Certification - August 2001
Texas Chiropractic College, Pasadena, TX
Management of Low Back Pain Utilizing Flexion Distraction Techniques, John Triano, DC, PhD - August 2004
Valley Forge, PA
Neurology and Biochemistry of the Subluxation, David Seaman, DC - August 2004 Valley Forge, PA
Neurology & the Vertebral Subluxation Complex, Lisa Bloom, DC - February 2006
Philadelphia, PA
Extremity Adjusting Protocols, Mark Charrette, DC - June 2006
Wilmington, DE
Wellness Certification Program - Module 1, James Chestnut, DC - June 2008
Philadelphia, PA
Wellness Certification Program - Module 2, James Chestnut, DC - August 2008
Philadelphia, PA
Licenses
Chiropractor
Commonwealth of Pennsylvania - May 2002
Adjunctive Procedures
Commonwealth of Pennsylvania - June 2002
Honors
Daily Local Reader's Choice Award Winner - "Chiropractor" (2013)
Best of West Chester - "Neurology" awarded by West Chester Award Program (2013)
City of Philadelphia - "Liberty Bell" awarded by Mayor John F. Street for participation in the Mayor's Office of Health & Fitness (2008)
City of Philadelphia - "Proclamation" awarded by Mayor John F. Street for dedication and participation in the Mayor's Office of Health & Fitness (2007)
Cambridge Who's Who of Professionals (2006)
Board of Trustees - Hope for ALS, Houston, TX (2000 - 2001)
President, Research Committee - Texas Chiropractic College (2000 - 2001)
Contributor, ACA - Political Action Committee (1999 - 2001)
Who' Who in American Colleges and Universities - Texas Chiropractic College, Pasadena, TX (2000)
Vice President, Student American Chiropractic Association - Texas Chiropractic College, Pasadena, TX (1999 - 2000)
Dean's List - Texas Chiropractic College, Pasadena, TX (1999)
Honorable Mention - Texas Chiropractic College, Pasadena, TX (1999)
Volunteer Work
2013 - 2014 Board Member; Secretary - Pennsylvania Leadership Charter School
2008 Volunteer - Fair Trade Live Concert - Media, PA
2006 - 2008 City of Philadelphia - Mayor's Office of Health & Fitness - Philadelphia, PA
2007 Wawa Stair Climb - Philadelphia, PA
2006 Volunteer - Media Five Mile Race - Media, PA
2003 - 2004 ABC6/Boscov's Thanksgiving Day Parade - Philadelphia, PA
2001 British Petroleum MS150 bicycle race - Houston to Austin, TX
2001 Baseball Sports Medicine Institute - Houston, TX
1998 - 2001 Board of Trustees/Volunteer- Hope for ALS, Houston, TX
1998 - 2001 Volunteer - Texas Chiropractic College, Pasadena, TX
1999 Volunteer - Intercultural Cancer Council, Houston, TX
1999 Judge - Deer Park Independent School District Science Fair, Deer Park, TX
Curriculum Vitae
Kristina McRae Shuffler, DC
EXPERIENCE

10/2008 - Present Integrative Health & Chiropractic Center Chiropractor/Owner West Chester, PA
4/2007 - 10/2008 Complete Health & Chiropractic Center Chiropractor Yardley, PA
2/2007 - Present MMA - Michael McGurn, DC & Associates Chiropractic Coverage Philadelphia Region, PA
12/2005 - 11/2006 Delaware County Pain Management Chiropractor Folsom, PA
12/2000 - 8/2005 Karmich Wellness Centers Chiropractor / Regional Director Newtown, PA / East Norriton, PA
01/2000 - 12/2000 Latronica Chiropractic Chiropractor Newtown, PA
03/1999 - 06/1999 Webster Chiropractic Wellness Centers Exam Doctor / Marketing Associate Whiteville, NC
04/1997 - 03/1999 Chiropractic Centers of Marietta Office Manager / Billing / Collections / CA Marietta, GA


EDUCATION
01/1995 - 03/1999 Life University School of Chiropractic Doctor of Chiropractic GPA: 3.5
08/1989 - 05/1993 University of North Carolina at Wilmington Bachelors of Science in Psychology Minor in Nutritional Counseling GPA: 3.9


LICENSES
7/2006 - present Delaware - Chiropractor
12/1999 - present Pennsylvania - Chiropractor


01/2000 - present Pennsylvania - Adjunctive Procedures
09/2001 - 09/2003 South Carolina - Chiropractor

CERTIFICATIONS

2008 Pediatric Certification

2007 Webster Technique Certified