Dr. Brian's
Adams oil/Salad Dressing
Prep time 10-20 minutes
Ingredients:
6 garlic cloves
1-2" ginger root
1 shallot
Zest of one lemon
1/2 to 1 teaspoon of turmeric or 1 fresh turmeric root
1/2 teaspoon cumin
1/2 teaspoon sea salt
1 teaspoon black pepper
Pinch to 1/4 teaspoon crushed red pepper
1/2 - 1 cup apple cider vinegar
16-32 ounces virgin olive oil to taste
Mince garlic, ginger, shallot and lemon zest. Add spices, vinegar, then oil.
Store refrigerated. Oil may solidify when refrigerated and liquifies at room temperature. You may place container in hot water for 2-3 minutes to liquify.
Kale Garden Salad
1 large bag organic kale 6 vine ripened tomatoes
3 Persian cucumbers
6 mini Tri colored peppers
Cut/Dice all ingredients and combine in large salad bowl.
Refrigerate and serve 4-6 people
Great with Dr. B's ADAM OIL salad dressing
Dr. Kristina's
Maple Granola Sweet Potato Casserole
2 pounds sweet potatoes 1 teaspoon of cinnamon 1 teaspoon of vanilla A pinch of sea salt Two farm fresh eggs 1 tablespoon of organic maple syrup 1/2 cup of organic half-and-half 1 1/2 cup of maple granola 2 tablespoons of salted butter melted 1 tablespoon of maple syrup
Preheat oven to 400°. Wash whole sweet potatoes and poke several holes with a fork. Place on a baking sheet and place in a preheated oven for 40 12:55 hour until potatoes are soft.
Once cooked through, remove from oven and allow to cool. Once called, scoop the meat of the potatoes into a bowl and set aside
Reduce oven heat to 350.
In a large bowl, beat together two eggs, half-and-half, and 1 tablespoon of maple syrup. Once combined, add sweet potatoes, cinnamon, vanilla, and a pinch of sea salt. Using a whisk or an electric mixer, mix until everything is combined.
Butter/spray an 8" x 8" square cake pan. Pour potato mixture into pan.
In a separate bowl, combine granola, melted butter, and 1 tablespoon of maple syrup. Stir with a spoon until all ingredients are incorporated. Spoon mixture evenly on top of casserole.
Bake for 25 minutes or the casserole has set and the top is golden.
Fall Harvest Pumpkin Chili
Ingredients:
1 lb. ground turkey* (we've used smoked brisket in the office)
1 green pepper, diced
1 onion, diced1-1 1/2 cup frozen corn
1 Tbsp chili powder
1-1 1/2 Tbsp cumin
1 tsp garlic powder
1 tsp onion powder
1 (15oz) can pumpkin puree
1 (15oz) can chickpeas, drained
1 (15oz) can black beans, drained
1 (28oz) can tomato puree
1 cup stock of choice, or water
salt and pepper, to taste
olive oil
Cook ground turkey in a skillet with olive oil, salt and pepper. Layer green peppers, onions, ground turkey, corn, and beans into a crock pot and cover with the tomato puree, pumpkin puree, and stock. Cook on low for 4-6 hours, or on high for 2-3 hours.
If making on a stove top, brown the turkey with pepper and onion in the olive oil with salt and pepper, and spices. Once meat is cooked through, add in the pumpkin and tomato purees, stock, beans, and frozen corn. Cover and simmer for 20 mins or until ready to eat.
ZACH'S
OVERNIGHT MAPLE OATS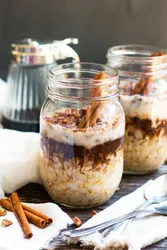 Make breakfast the night before with this super easy overnight oats recipe. Nutritious and delicious, this is a great way to start your day!
Ingredients
2 c rolled oats gluten-free
1 tsp vanilla
2 c almond milk
3 Tbsp brown sugar
¾ tsp cinnamon
3 Tbsp pure maple syrup
¼ c pecans coarsely chopped, toasted
Instructions
In four mason jars place equal amounts of the oats, vanilla and milk in each. Stir to mix well. In a small bowl, combine brown sugar, cinnamon and maple syrup. Pour a quarter of this mixture in each of the jars over the oats. Stir to combine. Refrigerate jars for at least 2 hours or overnight. Just before serving, toast pecans at 325 degrees for 5-7 minutes. Divide pecans and sprinkle in each jar. Serve with additional cinnamon and maple syrup, if desired, and enjoy!
Kristen's
Home Made Energy Bars
Ingredients
2 cups rolled oats
1 cup desiccated coconut
Pinch of salt
1/2 cup nut butter
2 1/2 cups (about 30) packed, pitted Medjool dates**
5-6 tablespoons coconut oil
Instructions
Line an 8x8 baking dish with parchment paper and set aside.
In a food processor, pulse the oats, coconut and salt a few times until combined.
Add in the nut butter and pitted dates and process until everything is broken down into a crumbly mixture.
Run the food processor again and stream in the coconut oil 1 tablespoon at a time until a sticky dough forms. It should be able to hold together when pressed between your fingers. You should have to use between 4-6 tablespoons.
Press the mixture firmly into a lined 8x8 baking dish. The mixture may feel a little oily, but the bars won't taste oily. They will just hold together really well!
Place the pan in the fridge for about 1 hour until the dough has set. Cut the dough into rectangles or squares. I get about 24 small rectangles.
Store the bars in an airtight container in the fridge for up to 2 weeks.
Notes
Any nut or seed butter should work.
I have only tried these bars with sticky Medjool dates!
You can always halve this recipe for fewer bars or bars that are thinner.
Jaimie's
Warm Mulled Apple Cider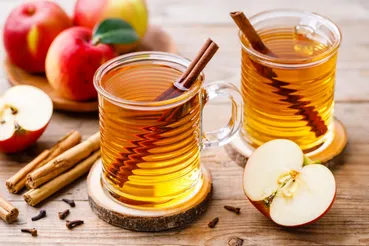 1 Gallon apple cider (we love cider from local orchards and markets, like Highland Orchards!)
1 cup fresh cranberries
4-5 cinnamon sticks
Fresh grated nutmeg (Optional to your preference)
Orange peel (Optional)
Combine all ingredients into a crockpot set on low for 4-6 hours, or on the stove top in a pot set at medium-low heat for 2-3 hours. Enjoy!